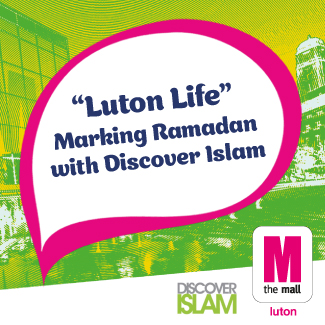 In the latest episode of The Mall's community podcast 'Luton Life', local charity Discover Islam is celebrated for their outstanding efforts supporting the town's local residents, especially during the month of Ramadan.
Discover Islam is a community-based organisation that has been in Luton since 2011 and is described as part information centre and museum, and part charity. Their overarching ethos is to encourage people to learn more about Islamic beliefs and practices in a safe space, where there is no judgement or prejudice.
Sujel Miah, one of the management team at Discover Islam, tells host Sophie Sulehria about the conscious effort the centre makes to create a welcoming space and comfortable environment for anyone looking to use their services. Sujel explains "We wanted to make this place accessible for everyone and create understanding about our faith and get people to actually meet Muslims!". Educational books and Qurans are available on site to anyone seeking more information about the Islamic faith, and opening conversations to gain further knowledge is always encouraged.
Alongside their education goals the charity works with Luton Foodbank, one of The Mall's chosen charities for the previous four years, to distribute food to the community. The rising cost of living has driven many families to rely on food donations to get by, so these services have never been more valuable. Throughout the month of Ramadan Discover Islam have also distributed food boxes put together to break the fast, including items such as flour, rice and oils. Sujel stresses that all food items are available to anyone in need, not just the Muslim community, and that any deliveries are dignified and discreet for the comfort of their recipients.
Also in the podcast, Sophie spoke to volunteers Hamza and Gulseema to hear stories of some of the regular users of the centre who have transformed their life through the charity. The high proportion of refugees in the area means that many of those who visit the centre have travelled to the UK alone and use the resources as a way to meet new people and become actively involved in their community. Many of those who relied on the centre's services have also returned as a volunteer, recognising the value of the work that Discover Islam do.
The Mall Luton are keen supporters of Discover Islam and their various projects, providing valuable funds and other support for the creation of their Peace Garden, for food distribution and the curry kitchen.
Lavinia Douglass, Marketing Manager at The Mall Luton, says: "We love supporting Discover Islam and the valuable work they have done over the past decade is truly inspiring. It's clear to see their efforts have made a monumental difference to the lives of many in our town, particularly throughout the month of Ramadan."
Lavinia continues, "Our Luton Life podcast is the perfect platform to highlight the continued hard work of the volunteers and resources that anyone in the community can take advantage of – whether they're seeking a greater understanding of a faith they are unfamiliar with, or a simple hot cup of coffee."
For further information about the Islamic faith or services that Discover Islam provide, visit the centre in Luton town centre or visit www.discover-islam.co.uk